---
2015-09-02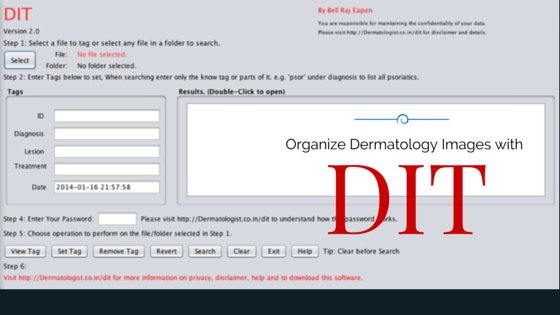 Do you find it difficult to keep track of your patient images when they come for follow up? Do you find it difficult to retrieve the right pictures for a conference presentation? Dermatology Image Tagger (DIT) is a free software to organize dermatology clinical pictures and to solve these problems.

DIT works by tagging images with patient ID, lesion, diagnosis, and date. You can search based on any of these tags! (Pictures of Mr. Smith, Pictures of psoriasis, etc.) The innovative feature is that the image file itself saves the tags but will not be visible on the display. So even if the image is copied to another computer, DIT will still be able to find it. [Download DIT FREE]

You can also share pictures with your friends, and they will be able to read these metadata using DIT. However, this introduces a security risk of inadvertently sharing this metadata on Facebook and other social media channels. To prevent the privacy risk, the tags are routinely encrypted with a password of your choice. If you share this password with your friends, they can view the tags.


— Bell Eapen (@beapen) September 2, 2015

I have hand coded it in Java and would be happy to hear feedback and feature requests. You can read about it and download it free from here: http://gulfdoctor.net/dit/ .[Just click the Facebook Like button to start download] This software made it into the 'The Top 50 Tech Tools for Dermatology' by DirectCapital. You can comment here for support tickets and feature requests!

See the instructions video below:






Labels: Clinical research, DICODerm, Magnetic Resonance Imaging